Feb 20, 2009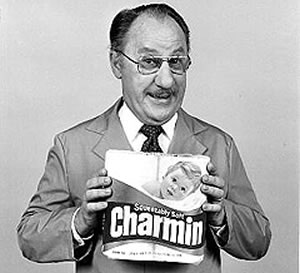 Up until 1964, the world did not have a man to associate with the softness and convenience of Charmin Toilet Paper. Then came Mr. Whipple.
Known, loved, and loathed for appearing in countless advertisements for over 20 years, Mr. Whipple has since become an American icon, even going so far as being rated the most recognizable face in North America during the late 1970's.
The character, a supermarket manager, was featured in hundreds of television, radio and print commercials in the United States and Canada from 1964 to 1985. The highlight of each spot: in unvarying repetition, Whipple scolds customers who "squeeze the Charmin," while hypocritically squeezing it himself.
The very first commercial set the tone of the advertising campaign. Mr. Whipple is seen looking off-camera at a female customer, commenting that first she's squeezing the grapefruits, then she's squeezing the melons, and then when she gets to the Charmin, that's the last straw, and he walks over to her and utters his famous plea "Please don't squeeze the Charmin!" for the first time. The phrase stuck, blooming into one of the most successful advertising campaigns in toilet paper history.
So who is Mr. Whipple?
Played by character actor Dick Wilson, Mr. Whipple is actually based on the Benton & Bowles advertising agency president (and Charmin campaign developer) Mr. George Whipple. He sold the rights to his name to Procter & Gamble for the campaign and thus a star was born. Thanks to Mr. Whipple, Charmin became the number one toilet paper brand in America – a feat that just can't be flushed!
If you're looking to see why Mr. Whipple squeezed the Charmin, you'll have to try it yourself. ToiletPaperWorld.com offers Charmin Toilet Paper to you at the best price on the net, so you can be sure that your home or business is equipped with squeezable, soft toilet paper.